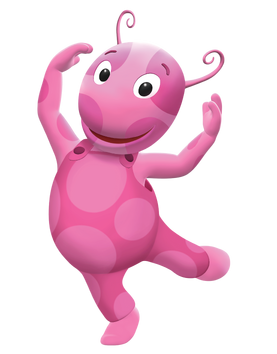 Uniqua is a pink "Uniqua". Who is one of the Crusaders close friends.
Personality
Edit
Uniqua is highly energetic. She is often the character to come up with new ideas for adventures. Compared to Tasha, she displays a more tomboy-like personality. Uniqua and Tasha occasionally get into disagreements over small things, usually due to differing opinions. No matter what, Uniqua will find a way to end the quarrel and have a good laugh with her friend.
At her very core, Uniqua knows what it means to be a true companion and has a heart full of compassion. She is loyal and loves to help others. Uniqua is persistently optimistic and determined to overcome any obstacle she faces on her adventures. Regardless of what role she plays while imagining scenarios with her friends, she always has a sense of humor.
Residence
Edit
Uniqua lives in a pink-colored house (in Nick Jr. City) located between Tyrone's house and Austin's house. It is visited more than any other character's residence. The interior is never shown, but a coat rack and a table can be seen in various episodes when Uniqua exits her home.
Physical Appearance
Edit
Uniqua's skin is light pink. Darker pink spots are randomly placed around her body. She has white eyes with black pupils. Her most noticeable features are her curled antennae. Her eyebrows are dark red. She wears dark-gloom pink overalls with light pink spots and two red-pink buttons on each strap.
Uniqua has an evil clone that is one of the antagonists in the series, in which she is soon to face in the future.
Ad blocker interference detected!
Wikia is a free-to-use site that makes money from advertising. We have a modified experience for viewers using ad blockers

Wikia is not accessible if you've made further modifications. Remove the custom ad blocker rule(s) and the page will load as expected.