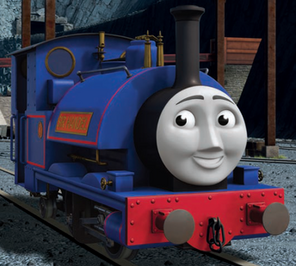 Sir Handel
, named after the
Skarloey Railway
's first owner, Sir Handel Brown I - but previously known as
Falcon
, after the works where he was built - is a narrow-gauge tank engine.
Personality
Edit
Sir Handel, named Falcon and under the supervision of Duke in his younger days, has been prone to moody tantrums and thinking that he knows better than others, and at times, is arrogant, pompous, rude, stubborn, naughty, and bad-tempered. When he was given broad wheels which hold well to the rails and has been said to give a smooth ride, this contributed to his arrogant self-importance and his belief that he is a grand engine. He is not known for being a well-behaved engine since he has been known in the past to take a disliking to the narrow gauge coaches (often referring to them as "cattle trucks"), feigning illness to avoid jobs he doesn't want to do, derailing himself and damaging his firebars on purpose, and believing that he should be in charge and he has a tendency to get too big for his wheels. Despite all this, Sir Handel works to get things done and is proud to be a reliable, helpful and good-hearted engine.
Sir Handel can be quite impressionable when it comes to engines who he views as important, express engines, or "the best engines in the world", such as Gordon, Duke or Skarloey. However, when the advice he is given results in him getting into trouble, as shown from Gordon, he can have second thoughts and want to give them a piece of his mind. He once claimed to be an express engine himself.
However, when he returned from working at a quarry, Sir Handel had been portrayed as a steady, thoughtful and more mature engine who is ready to offer advice. He is ready to be put in charge and keep other engines in order, but ironically regained his original personality whenever this chance occurred. Like anyone else, Sir Handel enjoys being helpful and reliable.
Sir Handel is based on the Talyllyn Railway's Sir Haydn, a Hughes Falcon 0-4-2ST. Albert and Proteus share the same basis. The Corris Railway is currently building another "Falcon" locomotive.
Sir Handel is painted dark blue with red lining and brass fittings. He has red and gold name and number plates on the sides of his saddletank and coal bunkers respectively.
When in equine form, Sir Handel is a dwarf unicorn stallion with a dark blue coat, black hair. And his number 3 as a cutie mark.
Main Weaponry
Edit
M1928 Thompson Sub-Machine gun
Ad blocker interference detected!
Wikia is a free-to-use site that makes money from advertising. We have a modified experience for viewers using ad blockers

Wikia is not accessible if you've made further modifications. Remove the custom ad blocker rule(s) and the page will load as expected.