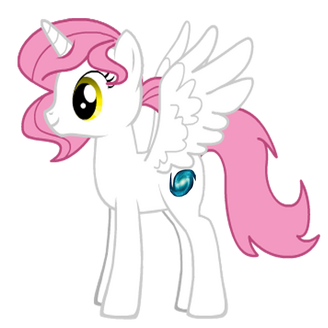 Princess Sharon
 is
Princess Celestia
and
Barret Barricade
's daughter, the cousin of Yuna, Skyla, and the Niece of
Princess Luna
, and the granddaughter of
King Solar Flare
, and she's in the stage of adolescence. Her dragon, a Fire Drake, is
Alpha
.
Sharon is the daughter of Princess Celestia and is quite the one for a knack in Astronomy. When she was just a young filly, she couldn't keep her nose in astronomy books and head out of the nighttime sky.
Personality
Edit
Sharon is alicorn with a knack of astronomy. She is very energetic, and usually wants to be a ruler with Celestia by her side. She also is loyal to Yuna and is always willing to show her more of astronomy.
Relationships
Edit
Appearance
Edit
Sharon is a white alicorn with a pink mane styled in a pony tail and yellow eyes, and has a galaxy for her Cutie Mark.
Skills and Abilities
Edit
Lightsaber combat: Sharon is very skilled in Lightsaber combat,
Force Skills:
Galaxy & Astronomy Knowledge:
Gun Marksmanship:
Main Weaponry
Edit
M16A2 assault rifle w Mossberg 500 shotgun
Colt Anaconda Revolver
Glock 18C pistol
Light Galaxy Blue Lightsaber
Ad blocker interference detected!
Wikia is a free-to-use site that makes money from advertising. We have a modified experience for viewers using ad blockers

Wikia is not accessible if you've made further modifications. Remove the custom ad blocker rule(s) and the page will load as expected.