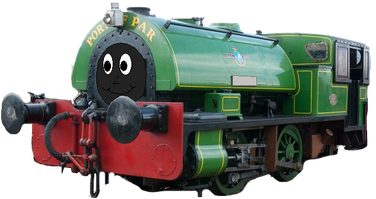 Pete
is a small shunter engine.
Pete is a new engine for Hiatt Grey's engines, he arrived from the Rheilffordd Gwili Railway to help out the engines. Mainly with Jenny.
Personality
Edit
Pete is a shunter engine, he doesn't like freight cars laughing. He certainly complains about shunting coaches for the big engines.
Physical Appearance
Edit
Pete is a green Bagnall 0-4-0ST shunter engine, with yellow lining. And his nameplate on the side of his tanks. And has red Bufferbeams, and a small white headlight on the top of his smokebox.
Ad blocker interference detected!
Wikia is a free-to-use site that makes money from advertising. We have a modified experience for viewers using ad blockers

Wikia is not accessible if you've made further modifications. Remove the custom ad blocker rule(s) and the page will load as expected.