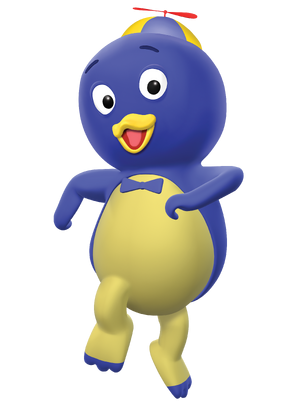 Pablo
is a blue penguin who is one of the close friends of
The Crusaders
.
Personality
Edit
Pablo is good-natured and tries to make everyone happy. He is an imaginative and frenetic little penguin who's a bit tightly wound. He thinks, speaks, acts, and reacts quickly – but by no means is he a birdbrain. Pablo is always ready to help his backyard playmates.
Pablo is a frenetic penguin who is more tightly wound than his friends. He thinks, speaks, acts and reacts quickly. He may not be the most agile or graceful of the Backyardigans, but he is enthusiastic and determined.
His interests include playing with his other friends, pretending, and going on adventures. He is enthusiastic and loves excitement on his adventures, but he's usually the first to react when faced with problem. He frequently has panic attacks, where he runs around in circles, telling himself or his friends to stay calm and not to panic, or getting alarmed and rambling out comical, unpositive things. Whenever Pablo starts to get worried about something, his friends are always there to calm him and assure him that everything will be okay.
Despite his fear of many things, Pablo will always help a friend in need. He is also a very clever little penguin. Throughout his adventures, he loves coming up with new ideas for him and his friends to make their pretend play more interesting.
Pablo is also prone to panic attacks.
Residence
Edit
Pablo lives in a blue-colored house located on the far left side of the backyard, in Nick Jr. City. A picnic table and a swimming pool are visible outside of his house.
Physical Appearance
Edit
Pablo's head, arms, back and toes are dark blue. His chest and legs are a pale yellow. His arms end in mitten-like flippers. He wears a blue bowtie and a blue-and-yellow beanie hat with a red propeller. He has a yellow beak and a pink tongue.
Pablo has a tendency to panic when the situation looks grim.
Pablo has a talent to play the accordion and trumpet.
Ad blocker interference detected!
Wikia is a free-to-use site that makes money from advertising. We have a modified experience for viewers using ad blockers

Wikia is not accessible if you've made further modifications. Remove the custom ad blocker rule(s) and the page will load as expected.