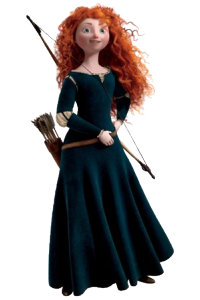 Princess Merida is the Scottish Princess of DunBroch. And she's the Jedi Master to Rapunzel.
Princess Merida is the headstrong and free-spirited 16-year old tomboyish, willful daughter of Queen Elinor, who rules the kingdom alongside her husband, King Fergus. Queen Elinor's expectations of her daughter cause Merida to see Elinor as being distant while also causing friction between the two. Despite Elinor's desire to see Merida as a proper royal lady, Merida is an impetuous girl who wants to take control of her own destiny. Merida has honed her skill in archery, and is one of the most skilled archers ever seen. She is also skilled in sword-fighting and racing across the countryside on her horse, Angus. Despite her outgoing, forceful, headstrong and wilful personality, Merida does have a playful softness of heart; particularly when it comes to her younger triplet brothers, Harris, Hubert and Hamish.
Personality
Edit
Merida is a very bold, brave, daring, courageous, stubborn, rebellious and headstrong girl who does not fit the stereotypical princess role. Rather than being a damsel in distress who is subservient to the customs, traditions, and social restrictions her society places on her and expects her to follow, Merida openly rebels and defies her heritage as a princess and would like for nothing more than to be a normal girl. She is very athletic and enjoys nothing more than riding her horse Angus and practicing her archery, of which she is the best in the kingdom. She also seems to be skilled in sword fighting, as shown in the Brave featurette "Cutting the Class". She tends to be ungraceful and has bad manners, and is extremely tomboyish.
In terms of personality, she greatly parallels and resembles her father, as the two both tend to be unruly, impulsive and loud. However, she also does resemble her mother in terms of stubbornness and inability to listen to others.
Main Weaponry
Edit
Long bow
Sword
Walther WA2000 Rifle
Bowcaster Blaster
Colt 1860 Army Revolver (with detachable stock)
Philadelphia Derringer